Every couple wants their special day to be distinctive and a reflection of their personalities and sense of style, and as professional wedding photographers, we are aware of this. To help your wedding photos stand out, we'll share some of our favorite cutting-edge and inventive ideas for wedding photography in this article.
Including Aerial Photography
By utilizing aerial photography, you can capture the beauty of your wedding day in a distinctive and contemporary way. Drones can be used for this, or a photographer with a helicopter or plane can be hired. Aerial photography offers a breathtaking bird's-eye view of the ceremony, reception, and surrounding area. The couple, the couple's wedding party, and the guests can all be photographed from unusual and interesting angles using this style of photography.
Using candid photos to capture emotion
Although candid shots have grown in popularity, traditional posed photos are still very important in contemporary wedding photography. These pictures were taken without the couple or their guests posing or being aware that their picture was being taken. Genuine emotions and moments are captured in candid photographs, which results in a more intimate and true representation of the happy couple's special day. Photographers should blend in with the guests and have good timing to capture those candid shots that reflect the emotion and atmosphere of the wedding in order to capture candid moments.
Taking Black and White Photos
Black and white photos give your wedding photos a timeless and classic feel even though color photos are still more common. Additionally, black-and-white images frequently place more emphasis on composition, expression, and feeling than on color. Black and white photos can be taken and processed in a very high-quality way thanks to the new high-tech digital cameras and editing software. This may produce a striking contrast, putting the focus on the couple and other aspects of the image.
Adding Video to Your Wedding Photography
A more thorough and personal representation of your special day can be achieved by incorporating video into your wedding photography package. In a way that still photos cannot, video can help you recall the sights, sounds, and feelings of your wedding day. You and your partner can look back on your special day for years to come by creating a lovely cinematic film of it. This can be accomplished through videography or by using a drone to take pictures and videos.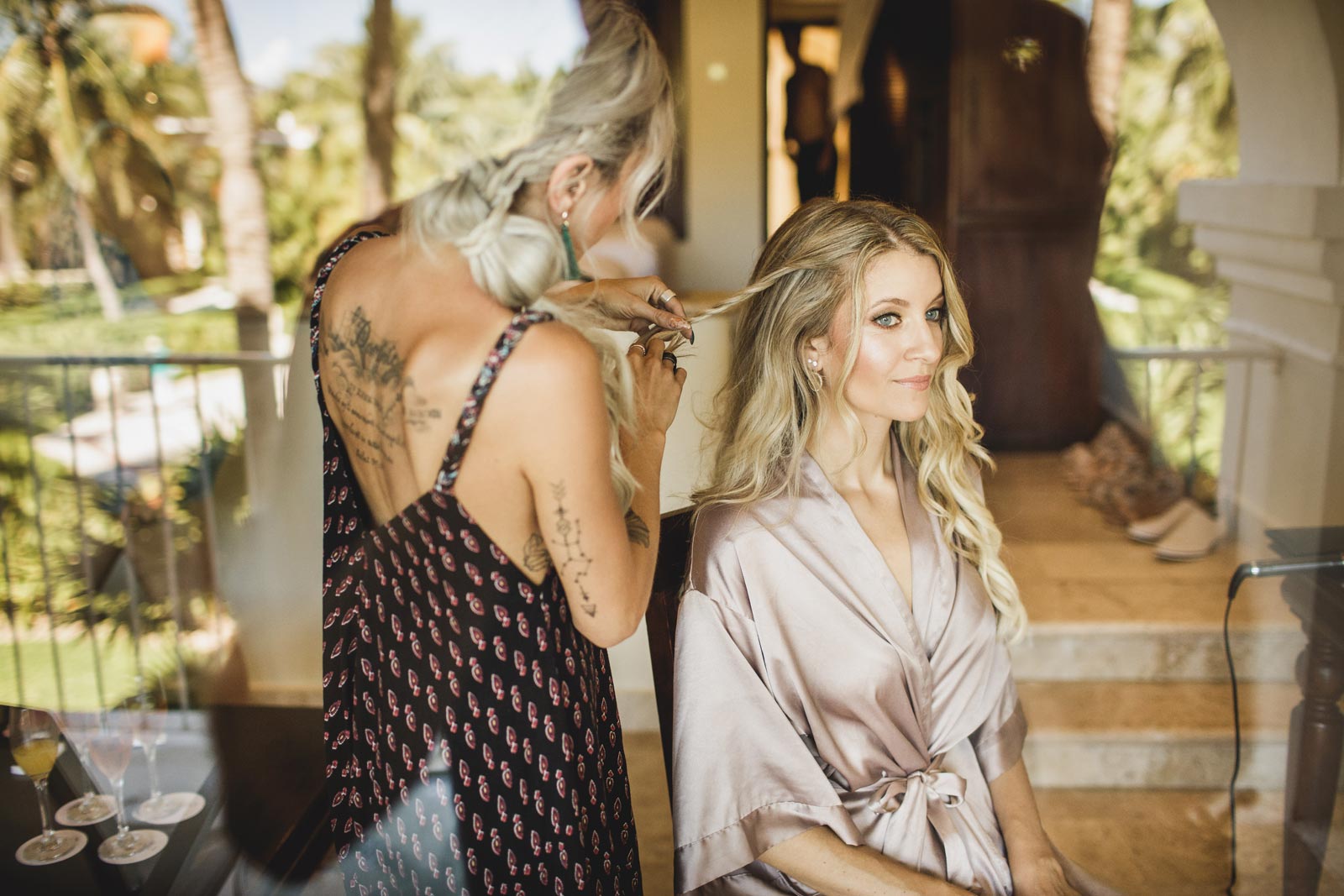 Making Use of Props and Original Pose
Including props and striking poses in your wedding photos is another way to make them stand out. This can involve anything from using entertaining and distinctive props like signs or balloons to posing the bride and groom and other members of the wedding party in novel or unconventional ways. This style of photography encourages a great deal of creativity and can produce images that are genuinely unique and memorable. However, it's crucial to avoid going overboard because the couple and their connection are what matter most in a photograph.
To sum up, there are a lot of original and cutting-edge techniques you can use to make your wedding photography stand out. There are countless ways to make your wedding photos truly unique, from using aerial photography and capturing emotion through candid shots to using black and white photography, including video and props. Every couple is different and unique, so your photographer should collaborate with you to produce a collection of images that captures your personalities and sense of style.
Including Landscapes and Nature
Landscapes and nature can offer a stunning and authentic backdrop for your wedding photos. Whether your location is a beach, forest, mountain, or garden, utilizing its natural beauty can add a calm and serene atmosphere to your photos.
Use reflective surfaces
Reflective surfaces like mirrors, metal, or water can give your wedding photos a new sense of depth and interest. Reflective surfaces can produce intriguing reflections that are unexpected and add a distinctive and contemporary touch to your photographs.
Use of long exposure photography
In order to capture motion and movement in your photographs, long exposure photography involves using a slow shutter speed. This method can give your pictures a feeling of motion and energy, and it works best when applied during the reception or dance.
Including Illumination
Including illumination in your wedding photos, whether it be natural or artificial, can bring more warmth, romance, and drama. Making creative use of light can help your photographs stand out, whether it's the mellow glow of candlelight or the warm light of sunset.
Making a photo narrative
Consider making a photo story that chronicles your wedding day from beginning to end instead of just taking individual pictures. You can achieve this by taking a number of pictures that, when put together, depict your wedding day's events from preparation and the ceremony to the reception and dancing. As a result, your pictures will portray your special day more thoroughly and with a sense of continuity.
By taking into account these suggestions, you'll be able to elevate your wedding photography and make it distinctive and memorable. The most crucial thing to keep in mind is to choose a photographer who shares your vision and to never be afraid to think outside the box. Your wedding photos will be truly one-of-a-kind and capture the special moments of your big day if you combine some original and creative ideas with a photographer who has the talent and experience to make them come to life.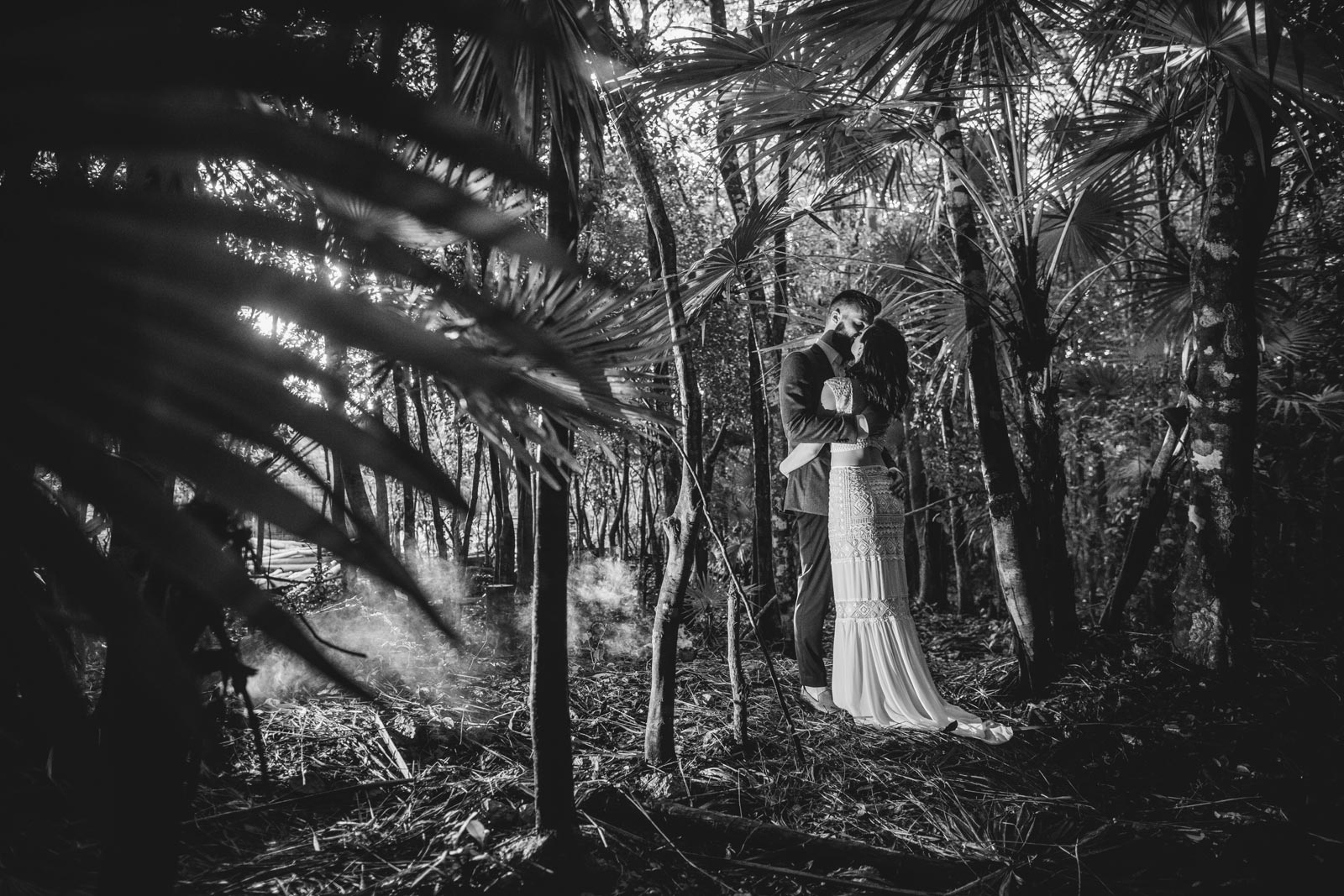 Using slow-motion video
Your wedding day can gain a sense of drama and elegance by incorporating slow-motion video. The first dance, cutting of the cake, and bouquet toss can all be captured in slow motion. Slow-motion video can add nostalgia and make for an intensely captivating experience.
Portraits in black and white
Black and white portrait sessions are a wonderful addition to the conventional posed photos to give your wedding photography a touch of classic elegance. The simplicity of the black and white portraits can convey a sense of intimacy.
Using a photo booth to interact with guests
For guests to take candid pictures of themselves and have something to keep as a keepsake, a photo booth can be a fun option. Some couples decide to use an outdoor photo booth or a conventional booth with backdrops and props. The pictures from a photo booth can also add some distinctive, fun, and silly pictures to your wedding album.
Use of the Tilt-Shift Technique
With the aid of the tilt-shift photography technique, you can create the illusion of a diorama in your wedding photos. You can use this method to give your photos a sense of creativity and playfulness. This method can be used with specialty lenses or post-production editing software.
Selecting Unusual Locations
Consider being creative with your location selections rather than sticking to the traditional wedding locations like churches or banquet halls. Think about holding a photo shoot in an old train car, an alley covered in graffiti, or an abandoned building. These out-of-the-ordinary settings can give your photos a sense of adventure and creativity that will make them stand out.
Overall, there are countless options for contemporary wedding photography that can be customized to reflect the distinctive personalities of the couple. These suggestions can help make your wedding photography truly one-of-a-kind, whether it's incorporating cutting-edge equipment like drones or using imaginative and unusual poses. To ensure that your vision is reflected in the finished photos, keep in mind how crucial it is to collaborate closely with your photographer.
Utilizing film photography
Although digital photography has become the standard, using film photography can give your wedding photos a timeless and nostalgic feel. With a certain warmth and softness to the images, film has a distinctive look and feel that is different from digital. Additionally, the images will have a grainy, organic texture. Furthermore, a lot of wedding photographers who still use film typically process and scan the negatives so the couple will also have digital copies.
Including Movement
Including movement in your wedding photography can give the images a feeling of energy and life. This can be accomplished by including movement in posed photographs or by using long shutter speeds to capture motion blur in objects like dancing or flowing dresses. This can also be accomplished by including moving objects in the photos, such as flowers or other natural elements, as well as by capturing the motion of the couple's hand gestures and facial expressions.
Photography underwater
Underwater photography can be a special and lovely way to document a wedding for a couple who loves the ocean or is getting married close to water. Whether done in a pool or a natural body of water, underwater photography can give your images a sense of otherworldly beauty.
Taking pictures in the infrared
A unique filter is used in infrared photography to enable the camera to record infrared light, which is invisible to the human eye. This method can result in ethereal, dreamlike images with a distinctive color scheme. In outdoor settings with a lot of greenery, it can be used to instill a sense of magic and mystery in the photographs.
Making Use of 3D Photography
For the viewer, 3D photography can produce a more compelling and immersive experience. To accomplish this, either special cameras or software that can turn a series of 2D photos into a 3D image are used. When used to capture expansive landscapes or sizable crowds of people, this technique can help create unusual and intriguing perspectives.
These are just a few additional original and cutting-edge suggestions that you can use to differentiate your wedding photography. Always remember that the secret is to think creatively and to pick a photographer who shares your vision and is willing to collaborate with you. Your wedding photos can be truly unique and capture the special moments of your big day with a combination of creativity and skill.
Using Flash Photography
Your wedding photos can be given more drama and vigor by using flash photography. You can make images that stand out and are powerful and striking by using flash in low light situations. The dancing, speeches, and other reception activities can all be captured using this technique, which can also be used to give your photos a sense of mood and atmosphere.
Making Use of Several Exposures
A technique called multiple exposures involves superimposing two or more images to produce a single, original image. When used to capture the landscape or the couple together with their guests, this technique can be particularly effective at adding a sense of depth and layering to your photos.
Use of time-lapse photography
A technique called time-lapse photography involves taking a number of pictures at regular intervals and playing them back quickly in order. This method can be used to document the progression of the wedding day, from getting ready in the morning to the reception at night. It works best when it documents the event's planning or the background's changing light and sky.
Use 360-degree photography
Using the 360-degree photography technique, the entire scene can be seen in a single image. When used to photograph large crowds of people or expansive landscapes, this technique can be used to produce immersive and compelling images. It enables the viewer to look around and come to feel as though they are a part of the image.
Use of panoramic photography
Using the panoramic photography technique, you can get a broad field of view in one image. This method can be applied to capture the size of a group photo, the grandeur of a location, or the beauty of a landscape. By employing this method, you can be certain that your image will be comprehensive and detailed, giving the viewer a sense of being a part of the scene.
Overall, there are a lot more original and contemporary techniques that you can use to differentiate your wedding photography. The possibilities are endless, ranging from using flash and multiple exposures to including time-lapse and 360-degree photography. To create truly special and one-of-a-kind wedding photos, it's important to work closely with your photographer to make sure they understand your vision and are willing to be creative and try out new techniques.
Including street photography
Your wedding photography will look urban and contemporary if you use street photography. By capturing natural moments of the couple, their wedding party, and guests in the city's streets, street photography can be incorporated to create a dynamic and lively atmosphere.
Utilizing Color Splash
The art of color splash photography involves removing all but one color from a picture and turning the rest of it black and white. Making one color stand out and grab the viewer's attention in this way can give your wedding photos a distinctive and striking appearance.
Use of light painting
Long exposure times and a light source are used in the light painting technique to illuminate a scene and produce interesting and distinctive effects in the photographs. When used to capture nighttime or low-light scenes, this technique has the potential to produce engaging and artistic images.
Using a Polaroid Camera
Your wedding photos will have a slightly retro and vintage feel thanks to the polaroid camera. You can give your guests a unique keepsake by using a polaroid camera to get instant prints of the pictures. The instant prints can also be added to your wedding book or album for a more intimate and tangible way to remember the memorable day.
As you can see, there are a lot more original and cutting-edge techniques that you can use to make your wedding photography stand out. You can get truly unique and memorable photos that capture the spirit of your special day by working with an imaginative and skilled photographer. Remember that finding a photographer who shares your vision and is eager to collaborate with you to realize it is the most crucial step.
Using a Medium Format Camera
By using a larger film or sensor, a medium format camera can give your wedding photos a distinctive look and produce images that are higher quality and more detailed. Additionally, the photos taken with this kind of camera can have a more cinematic and artistic appearance.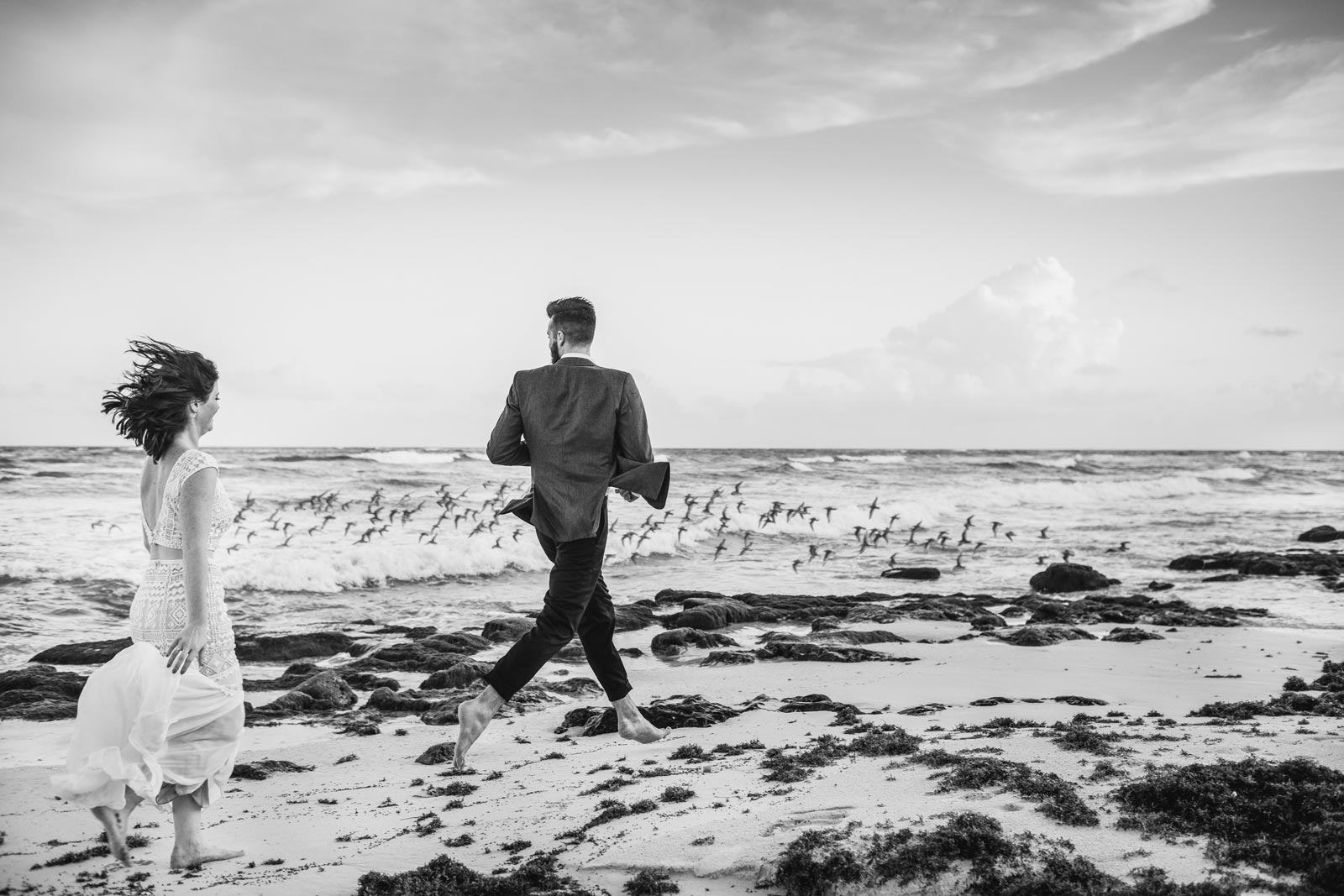 Making Use of a Film Simulator
To give your photographs a retro or analog feel, you can use software called a "film simulator" to mimic the appearance of vintage film stocks like Kodak or Fujifilm. This can be a fantastic way to give your wedding photos a timeless, classic look, and it works especially well when combined with film or black and white photography.
Including Street Art
It can be interesting and visually interesting to include street art in your wedding photography. Street art can be used in photographs as a foreground, a prop, or the main subject. You can use this technique to give your wedding photos an urban and gritty feel.
Use of night photography
Your wedding photos can become more mysterious and dramatic by using night photography. This method can be used to capture starry skies, fireworks, and lighting. Although shooting in low light can be difficult, the results can be truly stunning with careful planning, the appropriate tools and settings, and post-processing.
You can create truly unique and memorable photos that capture the spirit of your special day by taking into account these additional suggestions and working with a talented and experienced photographer. Remember to pick a photographer who can produce a collection of images that accurately captures your personalities and sense of style and who shares your vision.
RIVIERA MAYA WEDDING PHOTOGRAPHY
Would you like to contact us?