As wedding photographers, we've got to spill the beans on some must-have bling for the bride on her big day. Sure, everyone thinks about the engagement ring and wedding band, but don't forget about those earrings! They're like the cherry on top, bringing out the bride's beauty and style.
This year, we've had the pleasure of capturing a mix of brides, and they fall into two camps: the traditional darlings and the bold, modern trendsetters. We're based near some gorgeous beaches, and beach weddings are all the rage. So, guess what? We've seen lots of brides rocking boho-chic, colorful earrings. It's all about embracing that coastal vibe. And speaking of embracing, colored gemstone earrings are in vogue too. We're snapping shots of earrings with a mishmash of semi-precious gems left and right.
Now, here's a little secret: I have a soft spot for earrings, especially the long dangly ones that sway to the rhythm of the bride's movements. But here's the deal – choosing the right earrings is no walk in the park. You've gotta think about the dress neckline, and some brides even go all out and pick their gown based on the earrings they've fallen head over heels for! And let's not forget the family heirlooms; they've got their own special place in this earring game.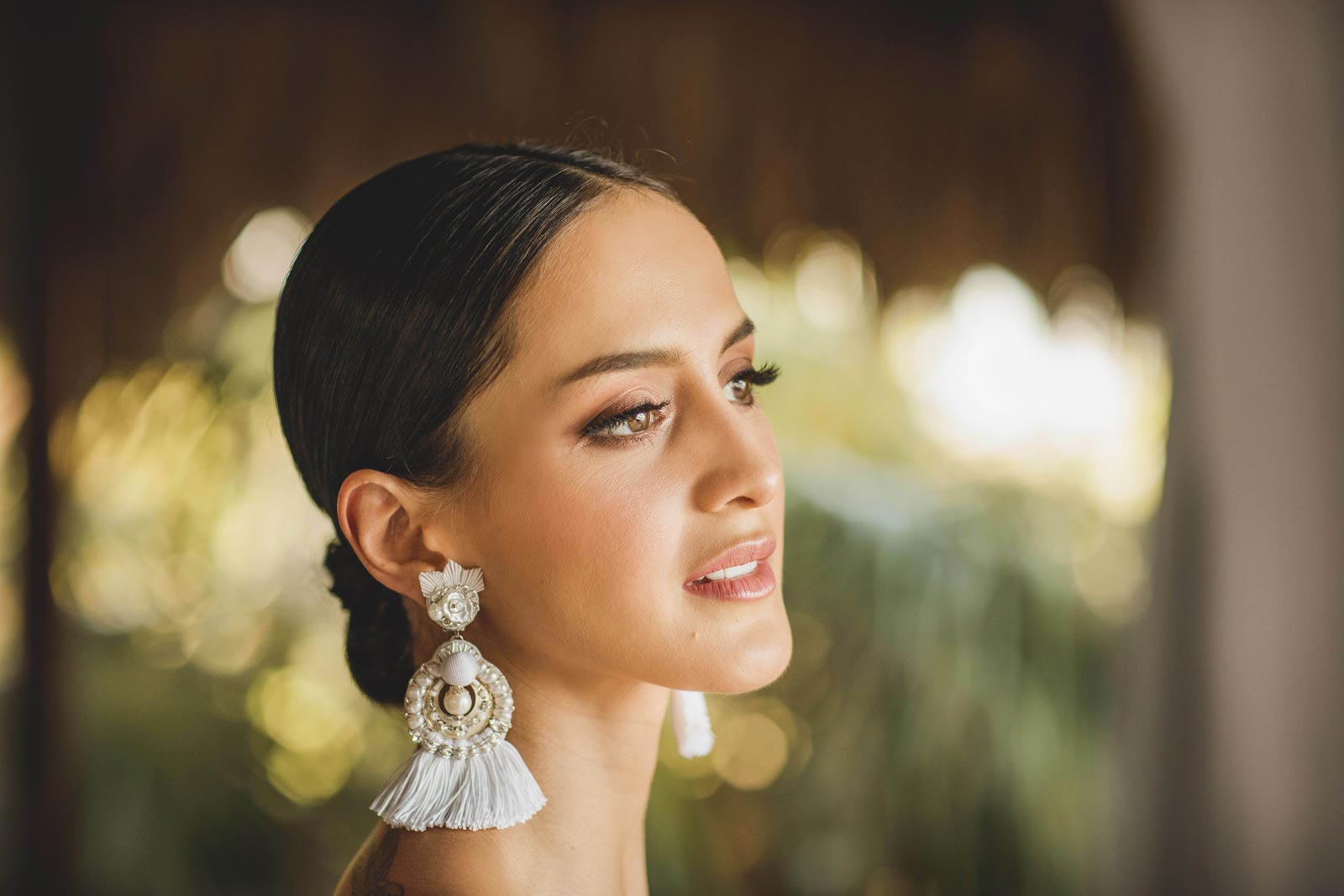 Factors that influence the choice of bridal earrings
Let's dive into what goes into the decision-making process for choosing bridal earrings. It's a bit like picking the perfect outfit, you know? We've got two big factors in play here – the shape and style of the gown, and the bride's personality. Both of 'em are super important in nailing the right earring vibe. When we're chattin' with our lovely clients, we're all about makin' sure those earrings enhance their beauty.
Now, when it comes to the hottest picks, we're seein' a lot of love for earrings with those cool blue gems, like jade. Some brides really dig the whole Mexican craftsmanship scene, and those handcrafted designs from the Riviera Maya have their hearts. Maybe it's 'cause they gotta get a lil' something blue in there, you know? And don't even get us started on aquamarines and sapphires – they're just plain popular overall.
But we also gotta give a shoutout to the brides who rock those olive or golden-toned earrings, like tourmalines or brown diamonds. Those gems, they just blend perfectly with the whole beachy vibe down in Mexico.
Surprisingly, it seems like not too many brides are rockin' pearls these days, even though they're a classic choice. But some vintage lovers out there, they're all about puttin' a modern twist on the classics. And if you're into that art deco vibe, you can find some seriously cool and edgy pearl necklaces.
Now, here's the thing – jewelry is like a gift that keeps on givin'. It's not just for the big day, folks. These pieces become family heirlooms, passed down through the generations, and you can mix 'n match 'em for different looks. So, stay true to your style, 'cause trust us, even a simple combo like jeans and a white shirt with a standout piece of bling can make you shine like a star!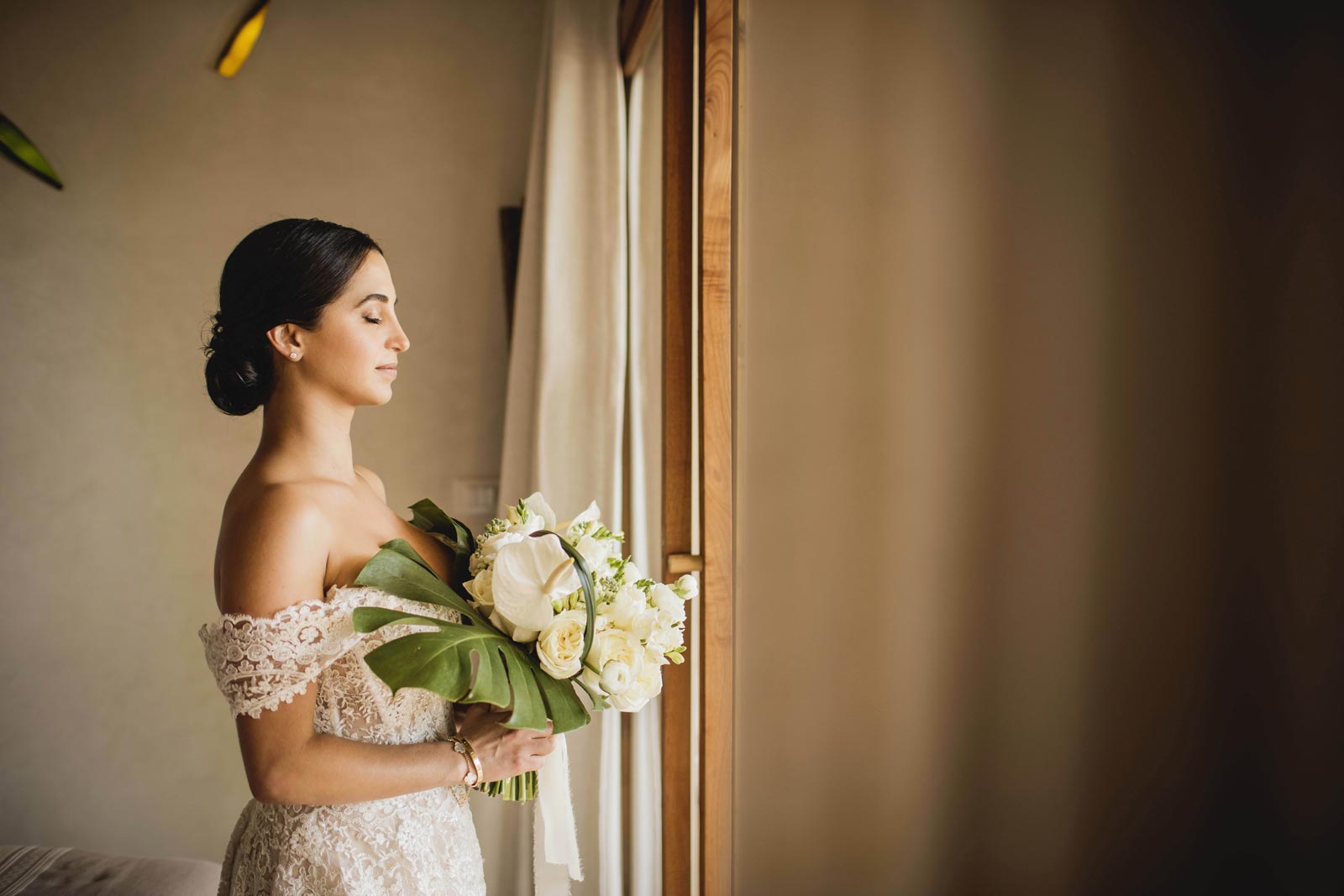 Other bridal accessories to consider
We've got some fantastic ideas for bridal accessories to jazz up your big day. We know that picking the perfect wedding gown is just the beginning, and we're all about adding those extra touches to make your look truly special.
Beaded belt
Let's talk about beaded belts – they're not just for holding up your dress! Some gowns come with a built-in belt, but why not kick things up a notch by adding a belt with rhinestones, flowers, or a pop of color? Get creative and match it with your bouquet or shoes to make a one-of-a-kind statement.
Girdles and underwear that is imperceptible
Now, let's get down to some unmentionables – but trust us, they're essential. We're talking about invisible underwear and girdles. You want to look fabulous in those wedding photos, right? These little miracles help you avoid any unwanted marks or lines that might show through your dress. Seamless, backless bras, comfy knickers, and thongs are your secret weapons, so you can focus on looking and feeling your best.
Bouquet
The bouquet – a bride's best friend. But who says it has to be your traditional floral arrangement? Some brides opt for unique choices like wild branches, fruits, or even a single flower bouquet. It's all about your style, so go with what makes you feel special.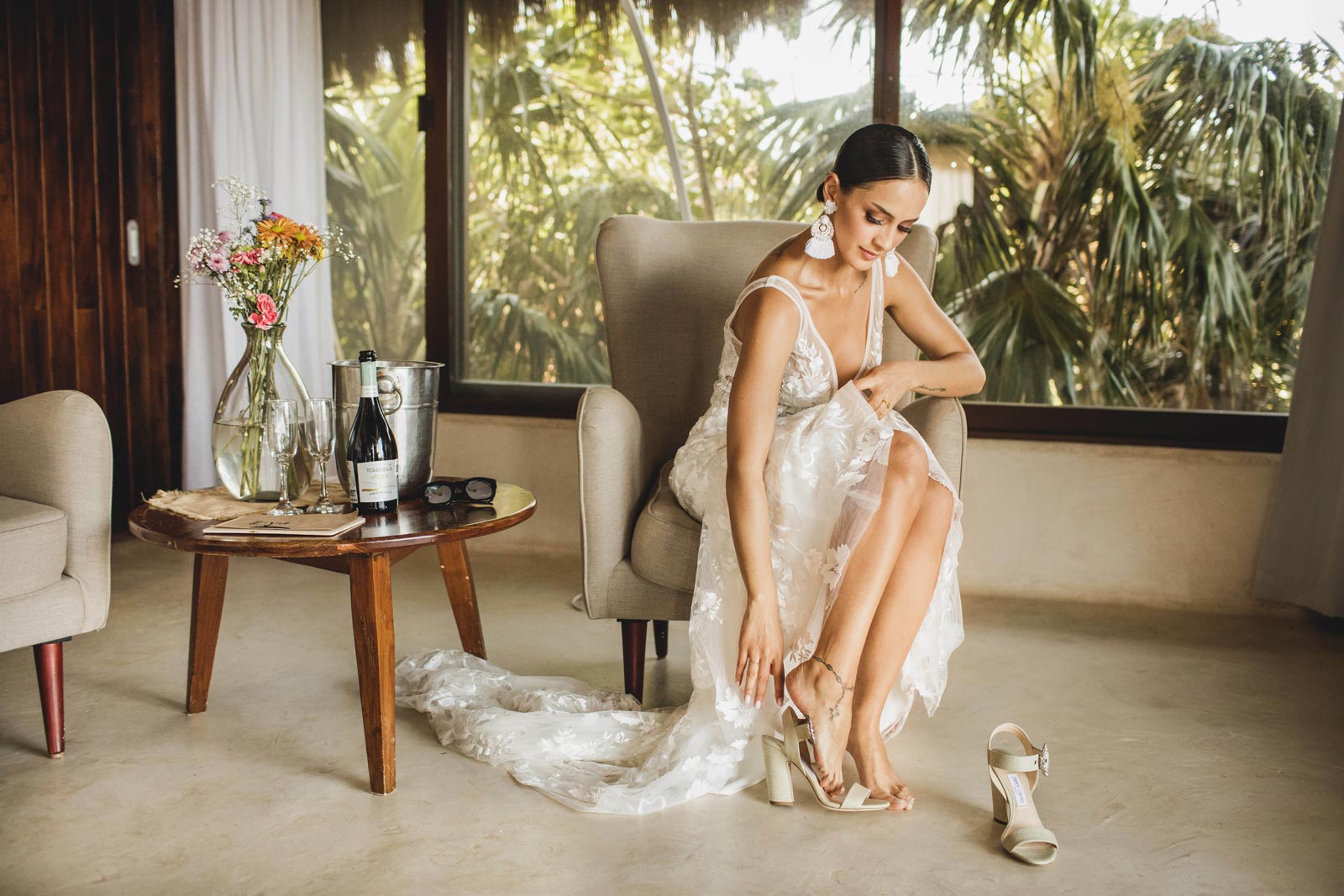 Purse
While not a must-have, some brides like to carry a purse to keep their personal essentials nearby. Think handkerchiefs, band-aids, safety pins, and makeup for touch-ups. Usually, the bride's close friends, like her mom or sister, take charge of the purse on the big day.
Veils and hair ornaments
Veils and hair ornaments – classic choices, but not everyone's cup of tea these days. Non-religious weddings often see brides swapping veils for headbands, bows, or headdresses. Some even go all out with crowns or tiaras, which can be worn alongside a veil if you're feeling extra regal.
Shoes
Let's chat about the bride's shoes. We're all about capturing those candid moments and helping everyone have a blast on their big day. So, here's the scoop on what we've seen.
Gone are the days when brides were stuck in towering high heels from dawn to dusk. These days, brides want to feel comfy and free to dance the night away. We've noticed they often bring along a second pair of kicks to keep their feet happy. These can be all sorts of cool options, like bridal sandals, those fancy wedge espadrilles, or even some fancy-schmancy custom sports shoes.
It's all about having choices, right? No more sore feet on the dance floor. We're all for it!
RIVIERA MAYA WEDDING PHOTOGRAPHY
Would you like to contact us?